Discover Sicilian Culinary Magic with our Private Cooking Classes
Immerse yourself in the rich flavours and traditions of Sicilian cuisine through our private cooking classes. Tailored to your preferences, this culinary adventure lasts approximately 4 hours, ensuring ample time to enjoy the experience at your own pace.
You will be hands-on in the kitchen with our expert chef who will guide you in preparing a delightful 4-course meal, incorporating the finest ingredients and traditional techniques.
2 Hours in the kitchen with half-time break with aperitif and food tatting
4 course meal severed on our private terrace with sea views
Selection of Sicilian wines and home-made liqueurs, coffee or tea served at the end of the meal
After the meal, the journey doesn't end; you'll receive detailed recipes and steps so you can recreate your meal at home.
Our cooking classes are suitable for 2 or more people, each cooking class is tailored to your needs and promises to create memories that will last a lifetime.
---
Contact via email: villabritannia@gmail.com or phone: +39 3386319657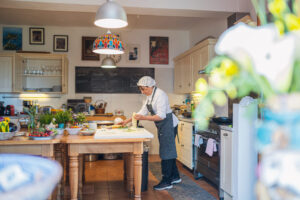 ---
Villa Britannia is a Sicilian Villa, with its own private garden and space, located in Taormina centre. Our aim is to express our love for Sicily and that you enjoy your experience in your Sicilian home for the day.
Once arrived, you make yourselves comfortable in the Villa, Louisa the owner will show you around and introduce to you the Villa's chef, kitchen and menu of the day. This is a hands-on class, but this is also a home so whoever prefers to watch and enjoy the scenery that's also part of it.
Fantastic Cooking Class with a Superb Hostess You could not ask for a more fantastic host than Louisa. She makes Villa Britannia seem like your home away from home even if you are only there for a few hours. The cooking class was engaging and used high quality ingredients. It was both practical and fun. Even our 18 year old son got drawn in and actively participated in the class. Definitely a great activity for the whole family.
Cooking with Louisa 🤩 Louisa was an exceptional host and the food was amazing, she is very knowledgeable in her techniques and it was fun to learn some of her Sicilian methods…her villa was beautiful and so relaxing on the patio with new friends; a delightful afternoon!!
Amazing cooking class Wonderful cooking class! Louisa and her team created the perfect menu paired with delicious wines. Step by step cooking and great explanations of where the food came from, the history of it and how it relates to the Sicilian culture.
Amazing cooking class! Such a fun and authentic cooking class. The food, wine and company is top notch. The menu was thoughtful and perfectly curated. Can't wait to do this again!
Take me back to Taormina Book this cooking "class" NOW!! Its an "experience"that will leave you forever changed! My husband was not sold on the idea of "cooking"While on vacation…"why would we do that?" He asked! Well, it so happened to be his favorite memory while on vacation! It's hard to put into words just how amazing this experience was! First off Louisa! She is a gem! We fell in love with her passion for sharing Sicilian cooking with others! She & her amazing chef Elvira helped us prepare the most delicious meal we ate in all of Sicily while sipping on unlimited Prosecco & wine! We made classic sicilian recipes of spaghettoni muddica, caponata, then zucchini, veal & fresh fish involtini. What made this experience even better was the fact we shared it with 2 other couples & a group of girlfriends fromAll over the world! Dubai, England, Germany & USA. We shared stories, broke bread & drank wine on Louisa's gorgeous veranda while overlooking the beautiful lights & sounds of Taormina! This evening helped restore our faith in humans after 2 very long years of isolation & quarantine! This vacation was a healing experience and It's a night we will never forget! Thank you Louisa & staff, we WILL return again someday!
Great fun while learning Some Sicilian recipes Our tour group spent the afternoon learning some great Italian recipes. The activity was very interactive - we learned to make the recipes and then got to enjoy the food with a beautiful view of the city and the bay. The chefs were very accommodating and everyone had a great time while learning how to make the recipes. One of the most memorable activities of our trip
Food and Fun, All in One! My husband and I did a cooking class with Louisa and her amazing chef, Elvira. The food is purposefully selected and delicious! It was great fun rolling out our own pasta and learning how to prepare the dough. It is an easy-going type of night and not laborious at all. The location has great views from the nice patio where you enjoy the meal you prepared. It is a fun excursion and you do not need to know how to cook. Highly recommend!
Highlight of our Time in Sicily!! This was our third cooking class experience in a week plus in Sicily: the first in a restaurant in Palermo, the second in a small apartment in Modica, but WOW here we were in a beautiful villa overlooking the sea a ten minute drive from our hotel in Taormina. Our hostess, Louisa, half English, half Sicilian and 100% charming.The hands-on instruction was casual but informative breaking the composition of an impressive dish into basic--I could do this at home--steps. The kitchen is large enough to easily accommodate up to eight. We didn't dee the facility for larger classes..Then Louisa's transformation from educator to peerless hostess breaking out the Prosecco as aperitif to the meal we had helped prepare. Four courses, three wines, and digestife. If I get back to Taormina ,not only will I repeat this experience but I will definitely look into staying at this awesome place.
Warm and welcoming! The whole evening was magical! And the meal was by far the best we had during our 3 weeks in Italy. And we had some fine meals along the way to compare it with. The atmosphere at Louisa's villa is lovely, peaceful and warm, with lovely music playing and the warm Sicilian night beckoning by candlelight. We learned many tips from Chef during class time and, in between courses, we sipped Prosecco on the veranda overlooking beautiful Taormina. It was a wonderful evening enjoying fantastic food with warm and welcoming people. This was not the cheapest cooking class we could have taken in Sicily but was, by far, the best value. Hope we can return sometime.
Beautiful Experience!! ❤️❤️❤️ This was our second time visiting Louisa and attending her cooking class. We had an amazing experience each time! She and her beautiful chef Elvira welcomed us into her gorgeous kitchen and explained everything perfectly! The food was outstanding….true Sicilian cooking!! We were lucky as well to spend three nights in her gorgeous Bed and Breakfast where Louisa prepared a delicious breakfast to order every morning. We are truly blessed to experience this twice in our lives. We consider Louisa a friend and cannot wait to return!! Grazie!!!!