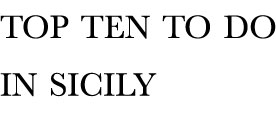 Let us help you organize your travels and explore Sicily to its best
Our top 10 suggestions for Sicily am just a small snippet
to see what we can help with. Contact us for any assistance.

SIRACUSA
Can be organized with a private guide- or bus or with your own transport. We can help you absorb the best of Siracusa. The ninety-minute leisurely drive will take you down the eastern coastline of Sicily passing the "Piana of Catania", the coastline of the Ionic sea and Iblei mountains, arriving in Siracusa, built on an ancient Greek settlement founded by Corinthians in 734 BC. More than any other modern city in Sicily, Syracuse manifests a visible continuity from its ancient Greek past, both historical and mythological.

ETNA -PRIVATE TOUR AND WINE TASTING
Through the tour you are also stopping off at a local family agriculture shop and taste some local Enta On the way, we will also stop and visit a local family farm where it is possible to taste local Etna wine, a selection of natural honey, fruit of the season, almond pastries, olives and extra virgin olive oil. After that you will also visit one of the best and well known vineyards "Tenuta San Michele del Murgo" where it will be possible to tour the property overlooking the sea and the volcano and taste some of their local table wine.

ETNA WITH JEEP AND QUAD
Enjoy enta in this adventuours way, reaching heights and sea views that could be difficult any other way. These activities can be organized around your preferences adding a part of trekking if you want and discover hidden parts of Sicily's goddess Etna.

PHOTOGRAPHY AND WALK TOURS AROUND SICILY
Have a great photography day and at the same time explore Sicily, but parts of Sicily which are hidden. There are various tours you can choose from Etna, Acireale, Montalbano and Alcantara… contact us for more information.

AGRICENTO – PRIVATE TOUR OR BUS
One of Sicily's most famous historical attractions is without a doubt the Valley of the Temples, just outside Agrigento. This splendid archaeological park consists of eight temples (and various other remains) built between about 510 BC and 430 BC: the Temple of Hera, the Temple of Concordia, the Temple of Heracles, the Temple of Olympian Zeus, the Temple of Castor and Pollux, the Temple of Hephaestos, the Temple of Demeter, and the Temple of Asclepius (the God of Medicine).Agrigento then, is as rich in diversity and history as it is in beauty, as well as being the subject of poets and birthplace of the famous Italian writer Luigi Pirandello.

CATANIA AND CATANIA'S LOCAL MARKET
Catania A Sicilian street market is a cacophony of sights and sounds. From a colourful assortment of fruits, vegetables, fish and meats to vendors barking about bargains for anybody who will listen. The ambience is punctuated by colored tarpaulins suspended as "tents" to protect the wares from the elements. Italian and foreign items vie for your attention – tarocchi (blood oranges), giri (leafy greens), chicory, herbs, artichokes, cuttlefish, swordfish, prawns, gutted goats, lambs, breads and cheeses. And that's just the beginning.


ERICE – SEGESTA AND TRAPANI
Driving to western part of Sicily from Palermo, our first stop will be at the magnificent Temple of Segesta. It was built by the Elimian, an old population whose origins maybe are Turkish but were later colonised by the Greeks to become one of the most important Greek colonies in the west side of Sicily. We then move on to the medieval town of Erice, situated 880 metres above the sea level and surrounded by ancient Elimi and Phoenician walls on the northeastern side of the city.

TRAVELING AROUND THE COAST WITH ANY VARIETY OF BOATS
The company in which Villa Britannia Taormina leans on has a wide selection of boats, from a fishing boat to the luxury motor yacht so it really depends on you. Our top selection of the boat trips would be the day trip around Taormina bay, Cyclpoes tour, Aeolian trips and the fishing trip.

MARZAMEMI AND NOTO
Day trip to see the baroque village of Noto and then to the beautiful beaches of Vendicari in Marzaemi. Noto, the city of Baroque par excellence. The building dates back to 1600 Noto beginning of 1700 following the complete destruction of the old town due to a terrible earthquake. It has been restored and today is spectacular and the golden stone buildings, stairways, domes of churches, balconies suspended over fancy shelves which make it unique from an unforgettable visit.

WALK FROM TAORMINA TO CASTLEMOLA AND STOPPING OFF AT A SPECIAL BAR
Have and walk up to Castlemola from Taormina and visit the beautiful boutique small Village located on the hill top above Taormina, the views are breathtaking and its well worth dropping off at a special bar… Aask Villa Britannia Taormina, and we will advise on what's best to do.
For any help and advice please do not hesitate to contact us.