Tuna  with sweet and sour Onions x 4 people 
400 g of the best of the tuna you can find . Look for the beautiful red part with little fibre
300 g of  Tropea  red onions  finely chopped long ways – (if you can fine these specific  red onions great , if not please use shallot onions or the sweetest mildest onion you can find ) 30 g of white sugar
80 ml of Red wine vinegar
10 capers – if they are large chopped or if they are the mini capers you don't need to chop
2 bay leaves
60 g of olive oil
Procedure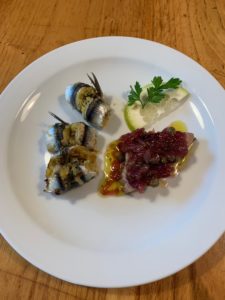 In a sauce pan place some your olive oil , add your onions and the bay leaves  and let them stew gently stew  for around 15-20 minutes . be patient really cook them down , so they are nice and soft and transparent.
Once done , add your sugar around the edges of the pan and leave for a few minutes .
Add your vinegar and cook for a further 10 minutes – 15 minutes .
Onions done
Now the tuna . We seared our tuna in olive oil – for about 5 minutes – medium heat . seared and remains pink in the middle.