PARMIGIANA – EGG PLANT CAKE X 4 PEOPLE 
We created with Chef Elvira , separate mini parmigiana , in metal moulds about 4 cm diameter.
3 Eggplants –  Peeled and sliced  in approximately  1/2 cm width, Salted and drained for at least 3-4 hours  –  and fried in vegetable oil (we used sun flower and peanut oil )
Once finished fried, put into a pasta drainer , pet  it drains as much oil as possible, tap with kitchen towel too .
500 ml Tomato Sauce – fresh (See below )
large quantity of Basil leaves
200 g  of Mozzarella diced
200 g  Parmesan cheese grated
Tomato sauce
500 g of Piccadilly tomatoes  – briefly boiled and skinned and cut in quarters  (we can keep the seeds as they are not bitter)
2 garlic gloves finely chopped we took out the soul of the garlic .
1 shallot or  one mild red onion finely chopped  fried in oil (be generous with your olive oil )
a large handful of fresh basil
A large lug of good quality extra virgin olive oil
Tomato sauce procedure 
Procedure : In a pan , oil , add your garlic and let simmer – add your onions and do the same and then add your tomatoes and keep on a medium heat for around 45 minutes , the tomatoes will loose their water and then the sauce will start to thicken and dry up .
Once its the right consistency , turn off the heat , add the basil leaves .
Your sauce is done.
Parmigiana Procedure
You can use a small -medium size baking tray . We can start layering the parmigiana  , on the bottom scatter some oil and dried breadcrumbs (so it does not stick )  always start with  eggplants , then  add your layer with tomato sauce  – a spread of  mozzarella , parmesan and basil and continue this process until your finish your egg plants  . Always finish off with the top layer of mozzarella and a large handful of parmesan on top.
Place in the oven at 180 ° for 15-30 minutes  (depend on the size of your baking tray – small moulds take about 15 minutes )and always allow to rest at least for 15-29  minutes  .
---
Tuna -Capers – Olives – Tomatos  sauce  
250 g of fresh tuna diced
30 g of capers – chopped or use the super small ones whole
30 g of capers
100 g of filleted cherry or plum tomatoes
100  ml of passata di tomato
1 glass of white wine
Olive oil
1 onion finely chopped
1 garlic finely chopped
1 bay leaf
salt and pepper to your liking
chopped parsley
First oil – onions and garlic – add your bay leaf and tuna and let sear and cook for around 10 minutes , gently stirring once in a while.  
Add capers- olives and filleted tomatoes , cook for 15 minute and at the end add your passsata cook for 5 minutes and add at the end a generous sprinkle of  chopped  parsley .
Busiate Pasta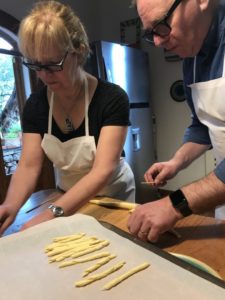 Long thin metal skewers  .  called ferro, a metal spike . . However, a thin wooden skewer works as a substitute are great . .
1/2 kg  of semola flour
a table spoon of  olive oil
250 ml of water
a large pinch salt
Preparing the pasta
On a clean surface add all the flour and create a well with a hole in the middle . 
in the hole gently add the water and with your hand slow mix the flour into water . continue adding the water , from crumbs slowly the dough will start to stick together . add your olive and contuse needing the dough  until you get a nice firm dough. This process should take about 10-15 minutes . 
let rest for  15-20 minutes
roll the dough into long thin  sausages and with your stick you are ready to do roll your busiate .
Technique – your saw It !!!
Cook the  busiate in  a nice salted boiling water  until they come afloat.
always cook your pasta in your sauce for a further 1/2 minute with a little  /half a cup of the starchy water (from the pasta water )
Tiramisu x 12 people 
6 yolks- Elvira will only use the freshest chicken organic eggs
150 g of white sugar
1/2 Kilo Mascarpone
1/2 kilo of fresh  cream  whipped
the best quality savoiardi biscuits (buy 2 packets )
300 ml of illy coffee – the best type of coffee you can get – done and cooled down
ADD 50 ml of Vecchia Romania or Cognac into the coffee
Bitter cocco powder
Procedure 
whisk your yolks and sugar
Then stir in the Mascarpone  (but work with it a little before  and don't use it from directly the fridge as it would be too hard and would mix probably )
Fold in your whipped cream
Soak your biscuits In the coffee and alcohol – briefly not too much ( you don't want them too soft ) .
Layering your tiramisu
Bottom layer biscuit – layer of cream – layer again of biscuit and final layer of cream
Sprinkle with cocco powder
ENJOY !!!
swordfish / fillet beef meat  involtini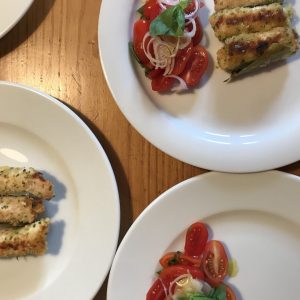 Involtini 
500 gr  of fish/ beef fillet  will feed 4 people
400 g Breadcrumb & herb mixture ( see below )
Oilve OilSamoriglio: a squeeze of  lemon -a large pinch oregano – 50 ml of olive oil –  pinch of salt
salt and Pepper
wooden skewers
Breadcrumb mixture for the filling of the fillets
400 g of white bread loaf or sliced bread – chopped in a food mixer
4 tables spoons of flat leaf parsley
100 g of Parmesan
1 garlic very thinly chopped
Mix all together and with your and hand  rub  together all the bread and herbs together , so all the herbs and garlic infuse together.
Putting together your Involtini
Take your fillets and cover in oil that they are coated .
Gently coat each fillet in the breadcrumb mixture .
Gently roll your fillets
Place on your skewer
Place in the oven for 8- 10 minutes at 180 °c
(see photo )
Confettura di  zucca 🎃  – Pumpkin Marmelade 
Kg 1  orange pumpkin diced 
G.350 sugar 
1 lemon skin and the juice 
Cinnamon  – 1 teaspoon 
1/2 teaspoon 
Nut meg 
Soak the pumpkin in water and the sugar for 6 hours 
.
Add skin  and juice of lemon and all the spices and liquor 
Cook for at least an hour . 
Place into sterilised jars 
FOCACCIA – MIXED HERBS AND TOMATOES ON TOP – 1/2 A KILO
500 g of 00 flour
15 g salt
60 ml olive oil25 g sugar
15  yeast (brewer yeast ) – 1 sachet dried yeast.
200-300  ml water
Rosemary finely chopped – olives – (you Can be adventures with this )
Place the flour ,  salt into a large bowl, and make a well in the middle. Add the yeast and sugar to the lukewarm water, and mix with a fork. Leave this for a few minutes and, when it starts to foam, slowly pour it into the well, mixing with a fork as you go.
Add your rosemary and herbs .
As soon as all the ingredients come together, which may take a minute or so, knead vigorously for around 5 minutes until you have a smooth, springy, soft dough.
Lightly oil a large bowl with some olive oil and transfer the dough to the bowl. Dust with a little extra flour, cover with a tea towel and leave to prove in a warm place for 30 minutes until doubled in size.
While the dough is rising, preheat your oven to 220°C/425°F/gas 7 and prepare the toppings with some chopped tomatoes .