Cooked  Nasa prawns with Orange & fennel  Salad x 4 people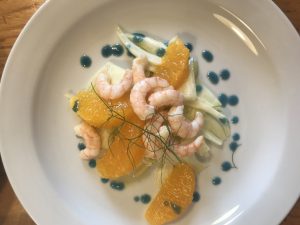 300 g of  prawns –boil with shells on – we cooked them in boiling water with lemon and 2 bays leafs and took them out  after 1  minute (don't cook them more than 1 minute ) – place them immediately in ice afterwards and they are ready to peel. 
Dress the prawns right till the end with half a lemon – a table spoon of oil and pinch of salt . 
4-5 Oranges – peeled and cut into segments avoiding the skin and all the white part 
1 fennel Bulb sliced julienne, include the bottom heart of the fennel , discard the fennel leaves .
1 table spoons of red wine vinegar
A lug extra virgin Olive oil
Salt and pepper to your liking 
Procedure 
we dressed the fennel with the red wine vinegar and  olive oil , pinch of salt.
Dish your plate on the bottom with the fennel  and then add the  orange segments  and a few prawns  on top.
Violà
 [space height="50px"]
Zucchini pesto – with mint and almonds x 4 people 
2 zucchini cut in half and sliced to about less than 1 cm width.
1 clove garlic- finely chopped
3  tablespoons almond
1/2 cup grated parmesan cheese
1/4 cup fresh basil leaves
1/4 cup fresh mint leave
salt & pepper to taste
2-4 tablespoons extra virgin olive oil (depends how thick you want your pesto)
In a pan add oil and garlic and let fry for a few minutes keeping on it . Make sure theres enough oil that there are no dry patches in the pan .
Add zucchini a soften and a few basil leaves
after 10 minutes put  this in a food mixer -add almond – mint – oil and salt and pepper
Viola done !!