Busiate  alla  Norma for 6 people 
1 kilo of tomatoes Piccadilly- take the smal part of the head off and discard  and chop the tomato  into 8 parts .
1 garlic finely sliced , taking out the middle part of the  garlic (which we call the soul of the garlic ) and finely chop into slices .
1 red soft onion finely chopped
1 Egg plant cut in half – and put in the oven for 15 minutes at 180 °c
4 eggplants – peeled and sliced in 1 cm slices (be as precise as possibile )
large handful of basil finely chopped
Breadcrumbs for your moulds
30 g of dried oven ricotta
Preparing the eggplants 
Take most of the skin off with a peeler  and cut  the  egg plants   into 1 cm slices 
If you are using the Turco Varies eggplant – drain : Add a generous amount of salt to all the eggplant and place in a drainer and let them drain for around   4-5 hours  . (This will take all the bitterness out and water from the eggplant  , meaning they will absorb less fat ) . 
** If you are using the Viola Variety  eggplant (round and purple ) You can drain for less time , around 1 -2 hr , dice and fry in sun flower or peanut oil. 
 Procedure for your tins and mould 
You can use a small -medium size baking tray . Or separate aluminium  moulds (which we used ) – muffin tins or cup cake tins.
Gently grease them with some oil and scatter the dried breadcrumbs – this will avoid any sticking .
We can start layering  the moulds with the fried eggplant , going round so we cover all the tin and leaving a flap over the edge of about 2 cm of eggplant
Procedure for the sauce 
Add a nice amount of  oil to your large saucepan and first add your garlic , after a  around 40 seconds  add the onion and get them nicely and soft , after a 5-8 minutes,.
add the tomatoes and keep simmering for 30-40 minutes . you don't want the tomatoes too crushed like a sauce but still nicely cooked.
add salt and taste to liking . then add  all your basil and take off heat .
Put though your ricer or food mill (just like we showed you ) .
Busiate Pasta 
Long thin metal skewers  .  called ferro, a metal spike . . However, a thin wooden skewer works as a substitute are great . .
1/2 kg  of semola flour
a table spoon of  olive oil
250 ml of water
a large pinch salt
Preparing the pasta
On a clean surface add all the flour and add the pinch of salt and olive oil  .  With your hands create  a hole in the middle .
in the hole gently add the water and with your hand slow mix the flour into water . continue adding the water , until you get a nice firm dough. kneed the dough together , stretching it for about 10-15  minutes.
let rest for 30-40 minutes
roll the dough into long thin  sausages and with your stick you are ready to do roll your busiate .
Technique – your saw It !!!
Cook the  busiate in salted boiling water for around 1 1/2 – 2 minutes – until they come a float .
ASSEMBLING EVERYTHING 
THE LAST PART – Now in another pan – add your olive oil and 1 chopped finely garli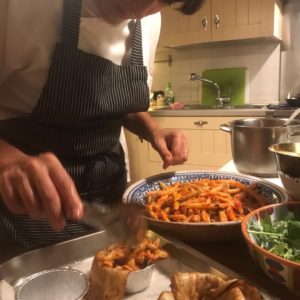 c + your oven eggplant – tomato sauce .
Add your busiate pasta and cook – add a nice amount of chopped basil and your grated dried oven ricotta .
Now place the pasta in your eggplant moulds and place in oven for 8 minutes at 180 °c
Let rest for 5 minutes
DONE