Marinated anchovies x 6 people
600 g of anchovies –  heads off – deboned and tails off .
place in a  bowl and cover with white wine vinegar for 1 hour- Drain
Add your anchovies to a bowl and add the following :
1 large heavy spoon parsley  finely chopped
1 mild chilly finely chopped
1 juice of lemon
a pinch of salt
a large 2  spoon fulls  of Olive Oil
 TUNA TARTAR
600 g of fresh tuna cut in fillets and then we diced and chopped it up.
10 g Chopped Mint
10 g of chopped Onion chives
10 g chopped Capers
1 nice lug of Extra virgin olive oil
1 lemon juice
CAPONATA serves 4-6 people 
Numerous local variations of caponatas  exist with some versions adding olives, carrots and green bell peppers, and others adding potatoes, olives and cappers.
Our Caponata which we need together . 
1 onions – roughly chopped 
6-10 celery stciesk  – chopped in large slices (include leaves ) and boiled for 10 minutes in boiling water 
100 g of tomato sauce (see below) 
4  eggplants –  chopped in cubes of around 2cm diameter 
4 peppers.-  chopped in squares of 2 cm diameter 
salt 
pepper
2 teaspoons of sugar
3 tables spoons of vinegar ( we used nero'dcvola red wine or any red Wine vinegar is fine). 
20 g pine nuts
20 g raisins
handful of basil chopped
olive oil 
peanut oil 
Preparing the eggplants 
Take most of the skin off with a peeler  and cut 3 the  aubergines into cubes of around 2-3 cms . 
If you are using the Turco Varies eggplant – drain : Add a generous amount of salt to all the eggplant and place in a drainer and let them drain for around 1.30 -2 hours  . (This will take all the bitterness out and water from the eggplant  , meaning they will absorb less fat ) . 
** If you are using the Viola Variety  eggplant (round and purple ) You can immediately Cut, dice and fry in sun flower or peanut oil. 
Preparing the base of the Caponata 
in a frying plan add a large lug of olive oil and add the onions and pepper and gently fry for at least 40 minutes  , adding a few table spoons of water once and while so it stays nice and soft .
After a while  
Add the tomato sauce , fried cubed aubergines , the boiled celery  ,  then add the sugar and vinegar and gently mix together . add pines nuts and raisins –  and leave on heat for 10 minutes .  TASTE FOR SALT AND ADD to liking . 
 add the large handful or basil  and stir – serve cold or slightly warm. 
The caponata is done.
MACCHERONI ALLA CARRIETTERIA   4 pax 
Long thin metal skewers  .  called ferro, a metal spike . . However, a thin wooden skewer works as a substitute are great . .
1/2 kg  of semola flour
a lug of olive oil
250 ml of water
a large pinch salt
Preparing the pasta
On a clean surface add all the flour and add the pinch of salt and olive oil  .  With your hands create  a hole in the middle .
in the hole gently add the water and with your hand slow mix the flour into water . continue adding the water , until you get a nice firm dough. kneed the dough together , stretching it for about 10-15  minutes.
We can start making the maccheroni .
roll the dough into long  sausages , with a diameter of about 2  cm ,  and cut your maccheroni into small pieces (this decides the size of each maccheroni )  .
Technique – place one piece of the dough onto the middle of the skewer – rolls gently with your hands and slide off .
Cook the maccheroni in salted boiling water for around 8 – 10 minutes
*** if you want to make lasagna / tagliatelle / ravioli etc … use one egg to for every 100 g of flour and your pasta dough will be great .
Maccheroni alla Carrettiera for 6 people 
1 kilo of tomatoes Piccadilly- take the smal part of the head off and discard  and chop the tomato  into 8 parts .
1 – 2 (depending on how strong they are ) garlic finely sliced , taking out the middle part of the  garlic (which we call the soul of the garlic ) and finely chop into slices .
1 red soft onion finely chopped
a very large handful of basil finely chopped
1/2 fresh red chilly – finely chopped
Olive oil
Add a nice amount of  oil to your large saucepan and first add your garlic , after a  around 40 seconds  add the onion and get them nicely and soft , after a 5-8 minutes add the chopped chillies .
after 1 minute add the tomatoes and keep simmering for 30-40 minutes . you don't want the tomatoes too crushed like a sauce but still nicely cooked.
add salt I use around 2 large tables spoons  and taste to liking . then add  all your basil and take off heat .
Once you have boiled and cooked your pasta (take a minute before fully cooked ) and then add to the sauce and leave on heat for 2- 4 minutes so that the pasta absorbs all the sauce and gets nice and dense . Add 4-5 tables of good olive oil .
Violà
INVOLTINI  WITH LEMON X 4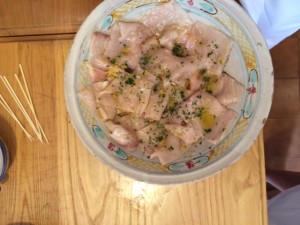 400 g of sliced sword fish  or ( veal – pork – chicken  – turkey ) – important that they are thin slices more or less 5x 5 cm   – hammered
Bay leaves
300 g of Fresh breadcrumbs
100 g of Parmesan cheese grated
Parsley finely chopped
salt and pepper
** (mix all the above)
Place swordfish  in a large plate and add a pinch of salt and plenty if olive oil, so that each fillet is coated in oil and salt .
Sprinkle over each fillet the breadcrumbs mixture and roll neatly. put onto wood skewer and add half a  bay leaf  and continue process.
 Put each involtino on the wooden skewer , max 4-5 pieces per skewer.
* we placed them in the oven for  10-15 min at 180 °c –
You can grill them , fry them or bake them . just remember 5 – 9 min each side.
TEMPURA for the flower of zucchini x 4 people 
300 g of semola flour
1 egg
300 ml of Beer or sparkling water or both.
pinch of salt
whisk all together – put in fridge and let cool before use.