TWO way anchovies – Beccafico (anchovy fish cake and fried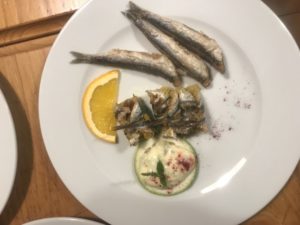 BECCAFICO
500 G of Fillets anchovies with tails
150 g of fresh breadcrumbs
50 g of olive oil
3 tablespoons of freshly chopped parsley
50 g of parmesan cheese
30 g Pine nuts
30 g of Raisins
1 orange juiced
Bay leaves
Procedure :
Mix all the following together : breadcrumbs – olive oil -salt and pepper –  parsley -parmesan -pine nuts – raisins – 1/2 the amount of the orange  juice (taste to balance flavours )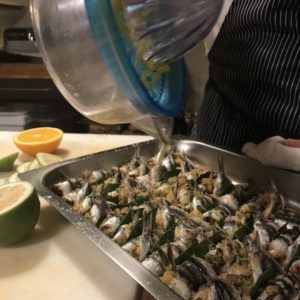 Create a nice soft texture and into a manageable paste with a soft sticky consistency .
Once your anchovies have been filleted  , open them up put a bit of the filling and roll them, separate each rolled anchored with a bay leaf . Adding the next time so they are all nicely , tight and close together .
They will go in the open for 10 minutes at 180°c , at half time add the remaining orange juice on top .
Viola Buon Appetite !!
Fried anchovies –
Fresh and cleaned anchovies dusted in semola flour only and friend in a vegatble oil ( we either use sunflower or peanut oil).
Busiate Pasta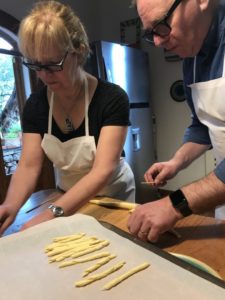 Long thin metal skewers  .  called ferro, a metal spike . . However, a thin wooden skewer works as a substitute are great . .
1/2 kg  of semola flour
a table spoon of  olive oil
250 ml of water
a large pinch salt
Preparing the pasta
On a clean surface add all the flour and create a well with a hole in the middle . 
in the hole gently add the water and with your hand slow mix the flour into water . continue adding the water , from crumbs slowly the dough will start to stick together . add your olive and contuse needing the dough  until you get a nice firm dough. This process should take about 10-15 minutes . 
let rest for 30-40 minutes
roll the dough into long thin  sausages and with your stick you are ready to do roll your busiate .
Technique – your saw It !!!
Cook the  busiate in  a nice salted boiling water for around 8 – 10 minutes
Tuna -Capers – Olives – Tomatos  sauce  
250 g of fresh tuna diced
30 g of capers – chopped or use the super small ones whole
30 g of capers
100 g of filleted tomatoes
100 g of passata di tomato
1 glass of white wine
Olive oil
1 onion finely chopped
1 garlic finely chopped
1 bay leaf
swordfish / fillet beef meat  involtini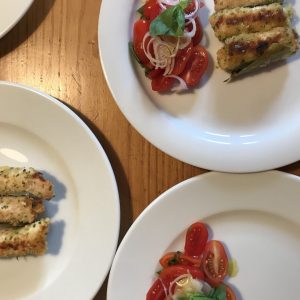 Involtini 
500 gr  of fish/ beef fillet  will feed 4 people
400 g Breadcrumb & herb mixture ( see below )
Oilve OilSamoriglio: a squeeze of  lemon -a large pinch oregano – 50 ml of olive oil –  pinch of salt
salt and Pepper
wooden skewers
Breadcrumb mixture for the filling of the fillets
400 g of white bread loaf or sliced bread – chopped in a food mixer
4 tables spoons of flat leaf parsley
100 g of Parmesan
1 garlic very thinly chopped
Mix all together and with your and hand  rub  together all the bread and herbs together , so all the herbs and garlic infuse together.
Putting together your Involtini
Take your fillets and cover in oil that they are coated .
Gently coat each fillet in the breadcrumb mixture .
Gently roll your fillets
Place on your skewer
Place in the oven for 8- 10 minutes at 180 °c
(see photo )
Confettura di  zucca 🎃  – Pumpkin Marmelade 
Kg 1  orange pumpkin diced 
G.350 sugar 
1 lemon skin and the juice 
Cinnamon  – 1 teaspoon 
1/2 teaspoon 
Nut meg 
Soak the pumpkin in water and the sugar for 6 hours 
.
Add skin  and juice of lemon and all the spices and liquor 
Cook for at least an hour . 
Place into sterilised jars